Over twenty years ago, Joanne Woodward and Paul Newman led the Playhouse's great last transformative campaign. It is now your turn to be part of shaping the Playhouse for future generations.
We have officially launched a Save Your Playhouse fundraising campaign with a goal to raise an immediate and necessary $2,000,000 by July 30, 2023. This campaign will allow us to look to a 2024 season that will bring to life a new vision – one that features both first-rate theater productions and a wide array of innovative programming to engage new and existing audiences.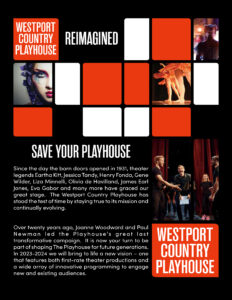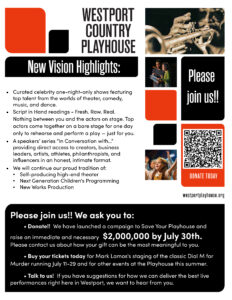 How can you help?
We ask you to join us, to come to our beautiful theater, and to help us ensure that the Westport Country Playhouse lives up to its legacy and flourishes for generations to come.