Welcome!
Welcome to the Westport Country Playhouse 2023 production of Ain't Misbehavin' with book by Murray Horwitz and Richard Maltby Jr., directed and choreographed by Jeffrey L. Page. It is our hope that this study guide enhances your experience before, during and after you see the production.
We want you to have an enriching and positive experience at our theater, whether it is virtual or in-person. If you have any questions, feel free to email our Director of Education and Community Engagement, Jenny Nelson, at jnelson@westportplayhouse.org
WHAT WE BELIEVE
LAND ACKNOWLEDGEMENT:

The Westport Country Playhouse acknowledges the indigenous peoples and nations of the Paugussett that stewarded the land and waterways of Westport, Connecticut. We honor and respect the enduring relationship that exists between these peoples and nations and this land.
ANTI-RACISM STATEMENT OF PURPOSE:

We resolve to place anti-racism at the center of our work. We are committed to holding ourselves accountable to short and long-term goals, while realizing that this work has no endpoint and will evolve and change. We realize and acknowledge that this is an educational process for which we ourselves are responsible.
Synopsis
Ain't Misbehavin is a musical revue tribute to the music of Fats Waller. A musical revue links together songs, dances or sketches thematically rather than communicating a full story or plot.   Ain't Misbehavin' presents a variety of songs set during the Harlem Renaissance in the1920s and 1930s. It was a time when Black Manhattan nightclubs such as the Cotton Club and the Savoy Ballroom were the playgrounds of high society. Lenox Avenue in New York City was filled with piano players banging out the new beat known as swing. Our five performers present an evening of exciting songs that encapsulate the various moods of the era and reflect Waller's view of life as a journey.
About the Composer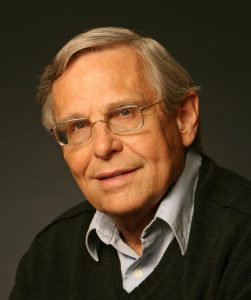 Richard Maltby, Jr., born in Ripon, WI, 6 October 1937, is a lyricist, director, book and screenplay writer, producer. Maltby's father, Richard Eldridge Maltby, Sr., was a well-known music arranger who moved from Chicago to New York in 1945 – when young Richard was seven – to work with many famous musicians of the day.
As an undergraduate at Yale, Richard Maltby, Jr. collaborated with composer David Shire on two musicals. Their partnership continued after college, resulting in full scores for at least half a dozen shows – The Sap of Life was produced off-Broadway in 1961, and in the next decade, five of their songs were recorded by Barbra Streisand, including "Autumn," the first song they wrote together for a show at Yale; and "Starting Here, Starting Now" featured prominently in Streisand's 1966 television special and companion album Color Me Barbra.
In 1978, Maltby conceived, wrote additional lyrics for, and directed Ain't Misbehavin', the revue inspired by Fats Waller's life, music and comedy, with a cast that included André DeShields, Ken Page and Nell Carter. After its success off-broadway, the show moved instantly to Broadway where it ran until 1982 (1,604 performances) and won many awards including the Tony Award for Best Musical. It also won the Tony for Maltby for Best Direction and for Nell Carter for Best Featured Actress, and earned two more nominations as well. Ain't Misbehavin' won Drama Desk Awards as well as the award for Outstanding Musical. In 1988 Ain't Misbehavin' returned to Broadway to pick up 176 more performances and a Tony nomination for Best Revival.
Richard Maltby's next venture was as lyricist and director, for the musical Baby (1983), written with long-time collaborator David Shire and book writer Sybille Pearson. It ran for 241 performances and received seven Tony® nominations and six Drama Desk nominations, including one of each for both Maltby and Shire, plus a Tony® nod for Maltby as director.
In 1986 Maltby was adapter, co-lyricist, and director of Andrew Lloyd Webber's Song and Dance, which won star Bernadette Peters her first Tony Award. He again earned a Tony nomination for his direction.
Next, collaborating as lyricist with Alain Boublil and Claude-Michel Schönberg on the smash-hit Miss Saigon in 1991, Richard Maltby had his most impressive success to date. It ran for nearly a decade, 4,092 performances, pulling in three Tony wins and seven nominations, including one for Best Score, and four Drama Desk wins as well.
In 1996 Maltby and Shire collaborated with bookwriter John Weidman on a new musical, Big, again receiving Drama Desk and Tony® nominations for their lyrics and music.
Other projects include directing The Story of My Life at the Goodspeed Opera House in 1998 and on Broadway in 2009, and in Chicago in 2010; Mask at the Pasadena Playhouse in 2007; and The 60s Project at the Goodspeed in 2006. In 2007, he ventured into film with a screenplay for Miss Potter, starring Renee Zellweger and Ewan MacGregor. He was creative consultant for Bea Arthur on Broadway (2002) and also conceived and directed Ring of Fire, The Johnny Cash Musical Show (2006).
Maltby has five children: Nicholas, David, Jordan, Emily and Charlotte. He is notorious for contributing crossword puzzles to Harper's Magazine since 1976.
-Excerpt from Masterworks Broadway
About the Book Writer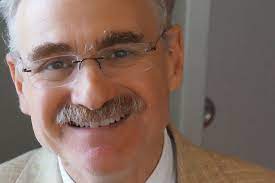 Murray Horwitz was born September 28, 1949 in Dayton, Ohio. Horwitz graduated from Kenyon College with a bachelor of arts degree, with a dual major, in English and Drama. In 1992, he received an honorary doctorate of fine arts from Kenyon College. As a playwright, lyricist, and broadcaster, Murray Horwitz has had an extraordinarily varied career in the arts, education, and public life, which started with him performing as a clown with the Ringling Brothers Barnum & Bailey Circus.
In 1973, after moving to New York City, Horwitz appeared in the one-man show, An Evening of Sholom Aleichem, which was directed by Richard Maltby Jr., and in which he continues to perform at The Kennedy Center, The Manhattan Theatre Club, and The New York Shakespeare Festival/Public Theater.
In 1978, Horwitz created Ain't Misbehavin' with Richard Maltby Jr. Horwitz received multiple awards for co-writing Ain't Misbehavin', including a Tony, Obie, Emmy, Grammy, and New York Drama Critics' Circle award.
He became the assistant director of Opera-Musical Theater at the National Endowment for the Arts in 1987. Since 1998, Horwitz has been creative consultant to the annual Mark Twain Prize ceremonies at the Kennedy Center.
In 1989, he began his career at NPR, where he was instrumental in giving the radio game show Wait Wait… Don't Tell Me! its start. He is also frequently a panelist on another public radio game show, Says You! He was also involved with Wynton Marsalis: Making the Music, and The NPR Basic Jazz Record Library. Horwitz received three Peabody awards for his work at NPR.
In 2002, Horwitz became the founding director of the AFI Silver Theatre and Cultural Center, in Silver Spring, Maryland. He was the director and chief executive officer from 2002 until 2009. He later served in fundraising positions at Washington National Opera and the Washington Performing Arts Society. In 2016, Horwitz took over as host of WAMU's The Big Broadcast old-time radio show. He is married to singer Lisa Miller and has three children, Charles, Ann, and Alexander. They live in Chevy Chase, MD.
Spotlight on Fats Waller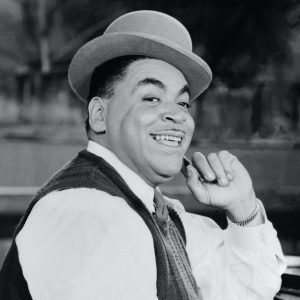 Pianist Fats Waller was influenced as a teenager by jazz great James P. Johnson. He proved a gifted piano player and songwriter, delivering such jazz standards as "Ain't Misbehavin'." In the 1930s, Waller's fame reached new heights following his performances on radio and in film.
Thomas Wright "Fats" Waller was born on May 21, 1904, in New York City. He learned to play piano at the age of 6, and within a few years was also learning the reed organ, string bass and violin. After dropping out of school at around age 15, he became an organist at the Lincoln Theatre in Harlem.
Click the link to watch Fats Waller perform Ain't Misbehavin'  from the 1943 movie Stormy Weather
Waller's father, Edward, a baptist minister, was hopeful that his son would follow a religious calling instead of a career in jazz. However, the path to music became inevitable following the death of Waller's mother, Adeline, in 1920. Waller moved in with the family of pianist Russell B.T. Brooks, who introduced the youngster to James P. Johnson, founder of the stride school of jazz piano. Stride piano is a style of jazz piano playing in which the right hand plays the melody while the left hand alternates between a single note and a chord played an octave or higher.
Waller continued to play organ at the Lincoln Theatre while also taking engagements at theaters in Philadelphia and Chicago. In addition, he often starred at Harlem's famous "rent parties," where he and his fellow musicians would essentially stage concerts in friends' homes.
Waller became more involved with writing and performing for revues in the late 1920s, starting with Keep Shufflin' in 1927. He forged a strong collaborative partnership with Andy Razaf, with whom he wrote two of his most famous stage songs, "Honeysuckle Rose" and "Ain't Misbehavin'." During this time, Waller also recorded such standards as "Handful of Keys" and "Valentine Stomp" as a soloist, and "The Minor Drag" and "Harlem Fuss" as leader of Fats Waller and His Buddies.
Waller returned to Hollywood early in 1943 to film Stormy Weather with Lena Horne and Bill Robinson. After returning to New York, he began writing songs for another revue, Early to Bed.
Waller had maintained a heavy travel schedule into the 1940s, despite declining health, but the wear and tear eventually caught up with him. While returning home from another West Coast trip in late 1943, he contracted bronchial pneumonia, an illness that silenced the beloved and influential jazz great for good during a stop in Kansas City, Missouri, on December 15, 1943.
Excerpt from Biography.com
Production History


Ain't Misbehavin opened in the Manhattan Theatre Club's East 73rd Street cabaret on February 8, 1978. The cast included Irene Cara, Nell Carter, André DeShields, Armelia McQueen, and Ken Page and was staged by Arthur Faria, now recognized as one of the original authors, and directed by Maltby.
The musical opened on Broadway at the Longacre Theatre on May 9, 1978, and transferred to the Plymouth Theatre and then to the Belasco Theatre and closed on February 21, 1982.
The London West End production opened on March 22, 1979, at Her Majesty's Theatre. DeShields and Woodard were joined by Evan Bell, Annie Joe Edwards, and Jozella Reed. It was revived in London in 1995 at the Tricycle Theatre and then the Lyric Theatre, with Debby Bishop, Dawn Hope, Melanie Marshall, Sean Palmer, and Ray Shell. A London revival cast recording was released by First Night. A Broadway revival with the same director, choreographer, and cast as the original 1978 production opened on August 15, 1988, at the Ambassador Theatre.
In 2022, Broadway choreographer and director, Jeffrey L. Page, re-envisioned Ain't Misbehavin' for a revival at Barrington Stage Company in Massachusetts. The production then went to Geva Theater in New York for a run in January of 2023. Now, this re-envisioned production finds its home at the Westport Country Playhouse for a run of performances in April of 2023.
The concept behind this new production is connected to the deeper meaning within the original book and music of this musical revue. Page believes that Fats Waller and other Black artists have, at times, been made to take on a comedic personality in order to please historically white audiences. In his production, you'll see the five actors evolve and change as they work their way from performing in a club in Harlem for Black audiences, to venues downtown for a majority of predominantly white audiences. Jeffrey's production nods at a powerful dynamic that performers of color experience to say something larger about our world today.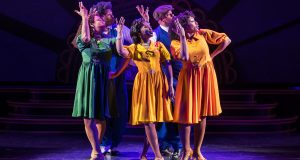 Photo credit Ron Heerkens Jr.
Geva Theater Production
Spotlight on Tin Pan Alley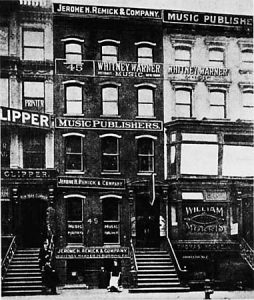 Tin Pan Alley was a collection of music publishers and songwriters in New York City that dominated the popular music of the United States in the late 19th and early 20th centuries. It originally referred to a specific place: West 28th Street between Fifth and Sixth Avenues in the Flower District of Manhattan. The name "Tin Pan Alley" originates from the unique sound that songwriters could be heard playing throughout the building. The sounds were so intense and vibrant that they were compared to banging on tin pans.
Tin Pan Alley comprised the commercial music of songwriters of ballads, dance music, and vaudeville, and its name eventually became synonymous with American popular music in general. When these genres first became prominent, the most profitable commercial product of Tin Pan Alley was sheet music for home consumption, and songwriters, lyricists, and popular performers laboured to produce music to meet the demand.
In 2019, the New York City Landmarks Preservation Commission took up the question of preserving five buildings on the north side of the street as a Tin Pan Alley Historic District. The agency designated five buildings (47–55 West 28th Street) individual landmarks on December 10, 2019, after a concerted effort by the "Save Tin Pan Alley" initiative of the 29th Street Neighborhood Association. Following successful protection of these landmarks, project director George Calderaro and other proponents formed the Tin Pan Alley American Popular Music Project to continue and commemorate the legacy of Tin Pan Alley with various advocacy and educational activities.
Spotlight on Music of the Harlem Renaissance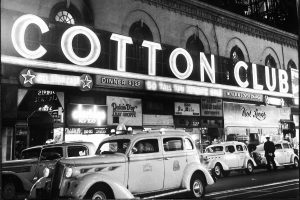 Cotton Club, New York City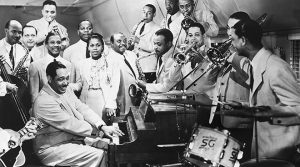 Duke Ellington and his Orchestra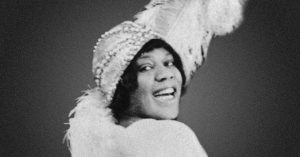 The Harlem Renaissance was the development of the Harlem neighborhood in New York City as a Black cultural mecca in the early 20th Century and the subsequent social and artistic explosion that resulted. Lasting roughly from the 1910s through the mid-1930s, the period is considered a golden age in African American culture, manifesting in literature, music, stage performance and art.
A new way of playing the piano called the Harlem Stride style was created during the Harlem Renaissance, the traditional jazz band was composed primarily of brass instruments (trumpet, saxophone, etc.) and was considered a symbol of the South, but the piano was considered an instrument of the wealthy. In the early 1900s, wealthy African Americans now had more access to jazz music and the piano. Its popularity soon spread throughout the country and became one of the most popular forms of music.
Click the link to watch a short video about the Harlem Renaissance
Some notable Jazz performers and composers at the time were Jelly Roll Morton, Cab Calloway, Ella Fitzgerald, James P. Johnson, Fats Waller, Ethel Waters, Adelaide Hall, Duke Ellington and Louis Armstrong.
Before you see the show
Explore any of the following themes, concepts and terms as a class: Fats Waller • The Harlem Renaissance • The Art of Subversion • American Jazz History and Stride Piano • Harlem Rent Parties • Musical Revues and African American Musical Theatre History • The Jim Crow Era
When you sit in the audience….
Before the play begins, what do you see on the stage?
Do you see any symbols or pictures in the stage arch?
Where might the setting be located?
Can you tell what time of day or year it is based on the set and lighting?
Does the set seem abstract or realistic?
Definition of abstracted set- a set that does not attempt to represent reality, but tries to achieve its effect using shapes, forms, colors, and textures.
Definition of a realistic set (or realism)-is a set that attempts to reflect a concrete world as close to real life as possible.
Listen and Explore
Our musical revue centers on the music of the Harlem Renaissance and composer Fats Waller. The music throughout the revue creates a sense of time, place and mood. Let's listen to some of the songs from the Harlem Renaissance to gain a deeper understanding of the time period.
Try listening to each song on its own and listen to the tempo and energy of the music. Here are some questions to ask yourself as you listen:
What genre/type of music is it?
Is the tempo fast or slow?
If there are lyrics, what ideas or mood do they communicate?
How does the music make you feel when you listen to it?
I'm Going to Sit Myself Down and Right Myself a Letter
performed by Fats Waller, music by Fred E. Ahlert and lyrics by Joe Young
https://open.spotify.com/track/6TNVQpTLgXww0Sni5gO7US?si=1943280dc34e4262
London Blues
By Jelly Roll Morton, performed by Jelly Roll Morton
https://open.spotify.com/track/4C1J0CnHF0dNfbBNIQBwbS?si=dfa6b21e58334187
It Don't Mean a Thing (if it ain't got that swing)
By Duke Ellington, performed by Ella Fitzgerald (vocals) and Duke Ellington and his Orchestra (instrumental)
https://open.spotify.com/track/2L7n1JJcDRJ5pDpAzZQcQk?si=b38c23a874804510
Jumpin' Jive
By Cab Calloway, Frank Froeba, and Jack Palmer. Performed by Cab Calloway and his orchestra.
https://open.spotify.com/track/3wPiJPl2X2IvzgKqj22baD?si=390c98a7ff4d4e6c
T'aint Nobody's Buziness if I Do
By Jimmy Witherspoon and Porter Grainger, performed by Bessie Smith
https://open.spotify.com/track/2il8ICaZ6X9eQ8GiobqqcJ?si=7da1d6e089924799
AFTER YOU SEE THE SHOW
Discussion Questions
What was your overall experience watching the revue?
Are there any moments that stick out to you and why?
What was one of your favorite moments in the production?
Why do you think the director and choreographer (Jeffrey L. Page) chose to create a serious mood around the song "Black and Blue"? What might the characters be telling us about what it was like to be an African American performer in the 1920s?
Costume Design
The costume design in Act One is full of vibrant colors with beautiful dresses and suits from the 1920s. How do these vibrant colors add to the musical? Does it communicate a feel or mood?
In Act 2, the actors have a costume change. They are wearing much fancier, glamorous costumes with extravagant feathers, glittery suit jackets and fabulous hats. Why do you think the costumes become more fancy in Act 2? What might the costume designer be trying to say to the audience?
What was your favorite costume in the show and why?
Set Design
The actor playing Fats Waller plays the piano throughout the musical revue. The piano rotates and shows him at different angles. At times, you see his face and at times you only see the back of him. Why do you think the set designer made this choice? What effect does it have on the musical revue?
The set had a frame around the entire stage with pictures and symbols of African and Egyptian art. Why do you think the set designer chose to add those to the set design?
What was one of your favorite characteristics about the set?
More questions?
Reach out to our Director of Education, Jenny Nelson, at jnelson@westportplayhouse.org and she'll be happy to answer your questions.
We hope you enjoy the show!