Welcome!
Welcome to the Playhouse Mobile Unit's 2023 production of Scaredy Kat Presents by Janine Sobeck Knighton. It is our hope that this study guide enhances your experience before, during and after you see the show!
If you have other questions, that are not answered in the guide, please feel free to reach out to us. We are here to make sure you have an enriching and positive experience at the show. Email our Director of Education, Jenny Nelson, at jnelson@westportplayhouse.org, and she'll be happy to answer your questions.
About the Playhouse Mobile Unit
Theater belongs to everyone. At the Playhouse, we believe that theater is not just a physical space. It is something much more than brick and mortar. Through theater, we make connections and open ourselves to new possibilities. We believe theater can happen anywhere and should be accessible to all. Specifically designed to be adaptable and accommodate any type of indoor space, the Playhouse Mobile Unit (PMU) is a fully-staged play that will travel to you for a live theatrical performance. It is our hope to bring live theater into our community for years to come.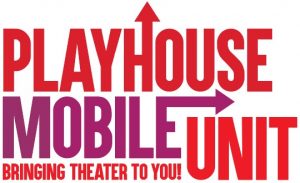 WHAT WE BELIEVE
Land Acknowledgement
The Playhouse sits on land once forcibly taken from the Paugussett people. The Westport Country Playhouse acknowledges the indigenous peoples and nations of the Paugussett that stewarded the land and waterways of Westport, Connecticut. We honor and respect the enduring relationship that exists between these peoples and nations and this land.
Anti-Racism Statement of Purpose
We resolve to place anti-racism at the center of our work. We are committed to holding ourselves accountable to short-and long-term goals, while realizing that this work has no endpoint and will evolve and change. We realize and acknowledge that this is an educational process for which we ourselves are responsible.
About the Play
Eleven-year-old Kathryn is paralyzed by social anxiety. Estranged from her classmates, 11-year-old Kathryn spends all her time in her basement with her two passions: Alfred Hitchcock and stop motion animation. When her enthusiastic attempts to win a trip to Hitchcock's old film sets fall apart faster than her clay figures, Kathryn is sent a possible gift with the arrival of the new neighbor girl, Nadia. Forced to spend her afternoons at Kathryn's house while her mom is working, Nadia's keen interest in art could be the secret to Kathryn's success. With her anxiety trying to block her at every turn, Kathryn must learn how to share her dream – and potentially make a friend along the way.
About the Playwright
Janine Sobeck Knighton is a dramaturg, playwright, screenwriter, story consultant, and educator who grew up in central California. Currently based outside of Salt Lake City, UT, she is a storyteller at heart and loves collaborating on new work. Janine started as the dramaturgy intern at Arena Stage in Washington D.C. before becoming their full-time Literary Manager, Dramaturg, and Producer of New Works. While there she worked with some of the country's greatest artists, including Pam McKinnon, Kenny Leon, Brian Yorkey, Tom Kitt, Phylicia Rashad, Edward Albee, Marcus Gardley, Karen Zacarias, Artistic Director Molly Smith, and more. Janine also loves to create her own stories. Her translation/adaptation of King Stag was produced at Utah Valley University in 2021 and her TYA play, Scaredy Kat Presents won the Purple Crayon Players PLAYground Festival in 2020 and will tour with Westport Country Playhouse in January 2023. Her new plays, Hidden Seashells: A Yoga Adventure (for K-3) and The Tale of Young Beatrix, were both workshopped at Utah Valley University in 2022. Her works have been developed at Utah Valley University, Purple Crayon Players, and Plan B Theatre. Currently, she has two web series, Backstage Bernie and An Open Letter to Isabella Beck, which can be found on the JSK Stories YouTube Channel. Janine's plays can be found on the New Play Exchange.
.
Spotlight on Alfred Hitchcock
Alfred Hitchcock was born in Leytonstone, England on August 13, 1899. He was the youngest of three children born to William and Emma Jane Hitchcock.
After attending a technical school at 15, Hitchcock spent the first years of his career as a draftsman, advertising designer, and writer. An interest in photography led to him working in London's film industry, first as a title card designer for silent movies and, just five years later, as a director.
In 1926, Hitchcock married his assistant director, Alma Reville, and in 1928 they had a daughter, Patricia.
Hitchcock quickly gained notoriety as a director who delivered suspense, twist endings, and dark subject matter. His own personality and dark humor were embedded in popular culture through interviews, film trailers, and cameo appearances in his own films. He was popular with audiences at home and abroad, and in 1939 the Hitchcock family moved to Hollywood. In the three decades that followed he would cement his legacy by directing and producing his most successful and enduring works. His television anthology, Alfred Hitchcock Presents, ran from 1955 to 1965 and made him a household name.
During his career, he created over fifty feature films in a career that saw not only the development of Hitchcock's own distinctive directorial style, but also landmark innovations in cinema. In 1929, Blackmail was his first feature film with sound and in 1948, his first color film was Rope. Hitchcock himself has been credited with pioneering many camera and editing techniques for peers and aspiring directors to emulate.
Hitchcock collected many professional accolades including two Golden Globes, eight Laurel Awards, and five lifetime achievement awards. He was a five-time Academy Award nominee for Best Director and in 1940, his film Rebecca won the Oscar for Best Picture. In 1980, he received a knighthood from Queen Elizabeth II.
A husband, father, director, and the Master of Suspense, Sir Alfred Hitchcock passed away on April 29, 1980.
Source material: http://www.alfredhitchcock.com/
EXTENSION ACTIVITIES
Breathing exercises (source: uhs.berkeley.edu/bewellatwork)
Breathing Breaks
Several times a day, take breathing breaks to help refresh your energy, let go of distractions, and increase focus. Stand and take a deep breath while you raise your arms slowly over your head. Exhale as you lower your arms. Repeat 3 times.
Paced Breathing
Paced Breathing is a technique that can help to relieve stress or anxiety. To begin, take a normal breath and then take a deep breath. Breathe in slowly through your nose, letting your chest and lower belly expand. Breathe out slowly through your mouth. Then, we will begin counting out the breath. The basic technique is to inhale for a count of 4 seconds, hold your breath for 4 seconds and exhale for a count of 4 seconds. As you exhale, make a "swoosh" sound. If your mind wanders, gently redirect your focus back to counting and breathing.
Meditation
What is meditation? Meditation is to engage in reflection for the purpose of reaching a heightened level of awareness. Meditation has been shown to improve sleep, reduce stress and promote an overall sense of well-being. So, what is guided meditation? It is meditation with the help of a guide or teacher. Guided meditation can be a great way to start meditating. Simply listen to the guide/teacher and follow their prompts. That's all there is to it. 
Want to try to meditate? Click the link for a 10-minute guided meditation session
The Daily Calm
https://www.youtube.com/watch?v=ZToicYcHIOU
Journaling
Journaling can be a great way to relieve stress and share your thoughts and feelings. Read the article below to get helpful tips to start journaling.
https://www.oprahdaily.com/life/a35231175/how-to-start-a-journal/
FURTHER READING & RESOURCES
One Village Healing
Established in April 2019, at the intersection of arts, liberation, and healing justice, One Village Healing  [OVH] is an emerging New Haven based wellness and resilience initiative dedicated to creating spaces, gatherings, and programming, rooted in the values of the healing justice movement. 
https://www.onevillagehealing.org/
United Way 211
The United Way supports 211, a free and confidential service that helps people across North America find the local resources they need 24/7
Mental Health Resource Directory in CT
This online directory acts as a gateway to mental health services across Connecticut.  
More questions?
Reach out to our Director of Education, Jenny Nelson, at jnelson@westportplayhouse.org and she'll be happy to answer your questions.
We hope you enjoy the show!