The second of our HD video gems from the archives
John Steinbeck's own adaptation of his novel, Of Mice and Men, tells the story of two migrant ranch workers, best friends, who move from place to place, seeking work and the promise of the American dream. George dreams of owning land and being his own boss. Lennie, his partner — a giant and physically strong man with cognitive disability — simply dreams of playing with rabbits. Having encountered problems at their last job, George and Lennie are forced to flee to a new farm for work, until Lennie's strength gets them into trouble.
what critics said
the familiar tale … is told in an unadorned style that makes it fresh and new."
Terry Teachout
The Wall Street Journal (reviewed Sept. 16, 2021)
Lamos lays out a parallel tone of quiet grace."
Frank Rizzo
Variety (reviewed Oct. 11, 2008)
VIDEO
Directors Mark Lamos and Paul Lazarus share insights about their experiences directing "Of Mice and Men"
Take a look at the official sizzle reel
Download our Study Guide for Teachers
For grades 9–12.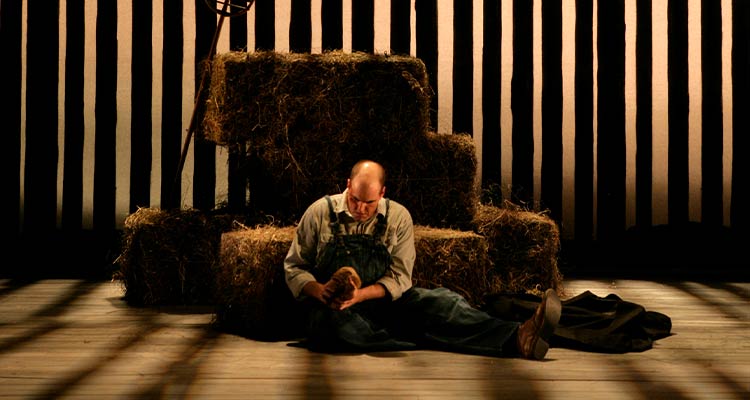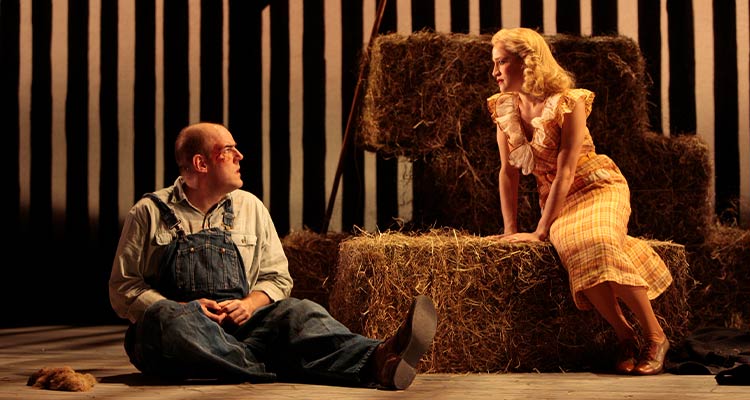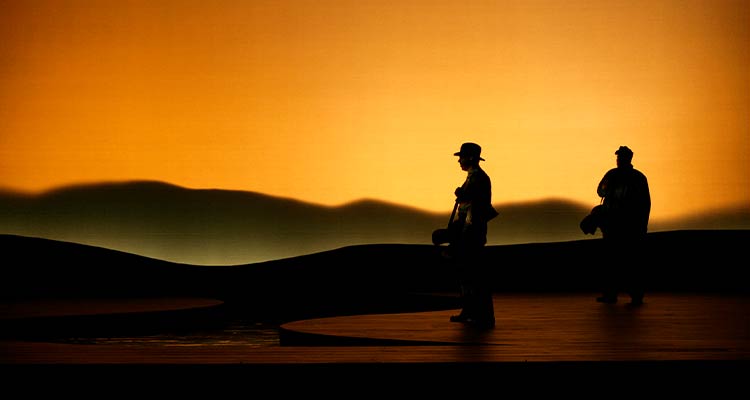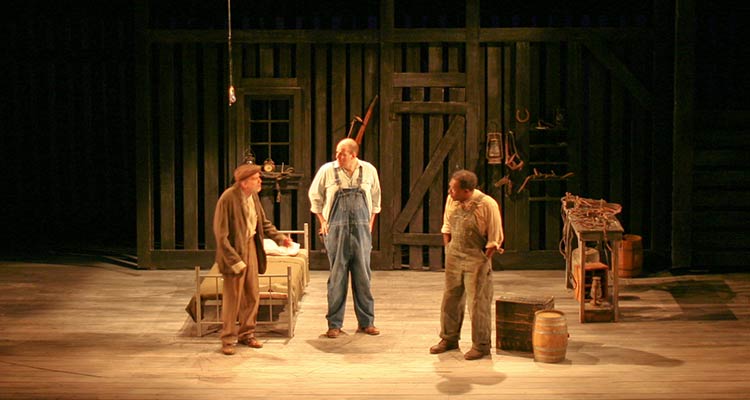 MEET THE CREATIVE TEAM
SOUND DESIGN & Original Music
B. H. Barry
Fight Director
William Berloni
Animal Trainer
Diane DiVita
Production Stage Manager
Andrew David Sotomayor
MUSIC DIRECTOR
Megan Smith
Assistant Stage Manager
Michael Chamberlin
Assistant Director
.

This production Of Mice and Men was presented in honor of Paul Newman.
About WCP in HD
As summer fades into fall, we've selected two gems from our archives of performances captured live on stage to share with you. Catch a show you missed, or see it again in a whole new way — closer to the action than you've ever been!
In a season of transition and recovery, this gorgeous high definition film whets our collective appetite for a return to in-person performance, but above all reminds us that great theater transcends medium.
Michael Barker
Managing Director
The 2021 season is generously supported by the Eunice and David Bigelow Foundation.
Media Sponsorship for the 2021 season is generously provided by WSHU Public Radio and Moffly Media.
September 13 – 26
Of Mice and Men (2008) in HD
by JOHN STEINBECK 
directed by MARK LAMOS

Running Time: ~ 2 hours