Answers!
Grace Kelly, the star of Hitchcock's 1954 film DIAL M FOR MURDER, was also the real life princess of what country?
Grace Kelly became the Princess of Monaco when she married Prince Rainier of Monaco in 1956.  Dial M for Murder was the first of three films Kelly would make with Alfred Hitchcock. The other two were Rear Window (released later in 1954) and To Catch a Thief (1955). Kelly and Hitchcock had hoped to work together on the film Marnie (1956), however Kelly had to withdraw from the project when the citizens of Monaco objected to her appearing in the film.
DIAL M FOR MURDER was the inspiration for what 1998 film starring Michael Douglas and Gwyneth Paltrow?
A Perfect Murder was loosely based on Dial M for Murder.  The title, A Perfect Murder, is taken from a line in Alfred Hitchcock's 1954 film version. Viggo Mortenson, who also stars in A Perfect Murder, would  go on to star in the remake of Alfred Hitchcock's Psycho in 1998.
Just for Trivia Time participants: Save 20% per ticket!*
To purchase your discounted tickets for Dial M for Murder, click here. Or, call the Playhouse Box Office at (203) 227-4177 and use promo code TRIVIA.
*Offer not valid on previously purchased tickets or in combination with any other offer. Limit 4 tickets per household. Subject to availability.
About Dial M for Murder
"You know whodunnit from the get-go, but (no spoilers here!) how the thorny plot unfolds is the source of all the thrills, chills and fun." The Times of San Diego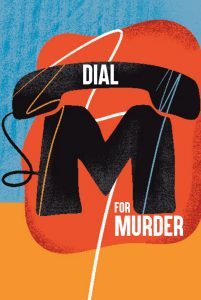 Dial M for Murder
Adapted by Jeffrey Hatcher
From the original by Frederick Knott
Directed by Mark Lamos
July 11 – 29
A devious husband, his wealthy wife, and her lover. This edge-of-your-seat, classic thriller has been brilliantly adapted by playwright Jeffrey Hatcher, who has created even more surprises and diabolic twists than the celebrated Hitchcock film!