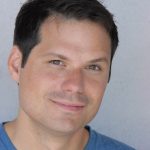 Michael Ian Black is a multi-media talent who's starred in numerous films and TV series, written and/or directed two films, is a prolific author and commentator, and regularly tours the country performing his ribald brand of jokes and observations. He most recently starred in TVLand's "The Gaffigan Show" and Comedy Central's "Another Period." He's reprising one of his iconic film roles in the upcoming second season of the Netflix series, "Wet Hot American Summer." His third standup comedy special, "Noted Expert," was released on Epix.
Previously, Black released two stand-up specials, "Very Famous" and "I Am A Wonderful Man." He and Tom Cavanagh host the popular podcast, "Mike and Tom Eat Snacks." He also writes and hosts a podcast with Michael Showalter, "Topics," and his own interview podcast, "How To Be Amazing." He hosts "Debate Wars" on SeeSo, and he recently hosted "Easiest Game Show Ever" on Pop TV.
Sketch comedy fans know Black's work on "The State," "Viva Variety," "Stella" and "Michael and Michael Have Issues," all of which he co-created, wrote and starred in. Other TV credits include quirky bowling alley manager 'Phil' on the NBC series "Ed," and his hilarious commentary on cable's "I Love the…" series. He recently starred in two hit web series that migrated to cable TV: "Burning Love" on E! and "You're Whole" on Adult Swim.
Playhouse Engagements