Script in Hand returns — in-person at the Playhouse!
A heartwarming, nostalgic, and hilarious tale about an unlikely friendship, Jeffrey Hatcher's autobiographical play recounts his adventures as a ten-year-old student attending a manners class in Steubenville, Ohio in the fall of 1967. Under the tutelage of his demanding teacher, Mrs. Mannerly, Jeffrey learns important life lessons beyond which fork to use at dinner, reminding us all that good manners never go out of style.
Plus, we're thrilled to announce that Mrs. Mannerly will star Playhouse Associate Artist Anne Keefe and Script in Hand curator Mark Shanahan!
Join us on Monday, October 11 at 7PM in the Robards Theatre, or catch the show any time on-demand, from October 13 – 17. Have questions about how you access the show? Check out our Digital Content FAQ page.
A NOTE FROM MARK SHANAHAN
I am so delighted to welcome our Script in Hand audience back to the Playhouse for a night of friendship, laughter — and a reminder that good manners never go out of style!
During this difficult time apart due to the pandemic, we had a great deal of fun with our online readings. But Script in Hand Series founder Annie Keefe and I often lamented how much we missed our Monday night gatherings at the theater. To that end, we wanted to do something special to mark the occasion as Script in Hand returns the Playhouse live and in person.
With that in mind, Annie and I are thrilled to take the stage together to perform Jeffrey Hatcher's delightful two person play, Mrs. Mannerly. Hatcher's wonderful script recalls his boyhood "manners class" and the  unlikely friendship he forged  with the remarkable and mysterious woman who taught him the basics of etiquette, place settings, and the value of a well written handwritten thank you note.
The play, part autobiography, part theatrical flight of fancy, is a nostalgia-filled love letter not only to a fondly remembered teacher, but also to a bygone era. Indeed, Hatcher's tale is set against the backdrop of  the social and political struggles of the year in which the play is set.
So, let us take you back to 1967.  Perhaps, some of you remember it?
Nearly 100,000 people march on Washington to protest the Vietnam war.
The Beatles unleash Sgt. Pepper's Lonely Hearts Club band and launch their Magical Mystery Tour.
A fire derails the launch of Apollo 1 , taking the lives of three astronauts.
The first Super Bowl is played between The Green Bay Packers and The Kansas City Chiefs.
Muhammad Ali is stripped of his boxing title for refusing military service.
An aging Mickey Mantle is moved from center field to first base.
Thurgood Marshall is nominated the first African American justice of The Supreme Court.
Sean Connery is James Bond in You Only Live Twice and Dustin Hoffman is The Graduate.
Of course, we often remember the past as a "simpler time," but 1967 saw our country suffering an identity crisis at a complicated moment of change and growth. The social mores of the past had given way to a decade of political upheaval, generational rifts and the counter culture movement.
Amidst this era's colorful backdrop, Jeffrey Hatcher offers us a glimpse into his childhood, recalling his own personal moment of change and growth during a boyhood spent in Steubenville, Ohio.
To be charitable, the author's recollections of 1967 Steubenville paint a picture of a town which wasn't necessarily hospitable for a young man destined to become a successful and celebrated writer for stage and screen.
But, clearly his childhood memories offer a treasure trove of characters and and details which have enriched his artistic pursuits. The play recounts afternoons as a ten year old, spent in the company of  Helen Anderson Kirk, the teacher who conducted a  "manners class" offered at the local YMCA.
Nestled among the "great Steubenvillians of old, Dean Martin, Edwin Stanton and Jimmy The Greek,"  Hatcher introduces us to a mysterious and wonderful lady — a figure who, in the author's memory, stood larger than life.
Mrs. Kirk, also known as Mrs. Mannerly, was already an anachronism in 1967, a woman of a bygone era who considered her manners class "a calling, a service the families of Steubenville needed, more than they knew!" In an era of rock and roll, the civil rights movement, draft cards, women's liberation and shocking political assassinations, Mrs. Mannerly's class covered the basics of tea service, formal silver settings and the recitation of verse.
And yet, while important social issues had finally come to the fore during the 1960s, perhaps Mrs. Mannerly's class addressed certain lessons which remain equally important to this day and should not be forgotten.
To some, the proper teaching of etiquette might be looked upon as a snobbish means to understanding the difference between a salad fork and a desert fork. But manners, it may be said, speak to a larger need for civility. Mrs. Mannerly's own personal hero, the esteemed authority on all things proper, Emily Post, laid down her first book on manners in 1922, entitled simply, "Etiquette."
Though Mrs. Post has been called a "daughter of The Gilded Age," her writing was far more concerned with the practicalities of modern life. Her interests lay in helping those from all walks of life achieve order in a chaotic world.
In the first edition, Mrs. Post addressed issues of propriety for the ordinary person wishing to uphold the standards of good manners. Truly, Mrs. Post believed that manners should not be afforded only to those of wealth and privilege. "Manner is personality," she wrote. "It is the outward manifestation of one's innate character and attitude toward life."
Amidst hard-fast rules on place settings and thousands of tips on party planning, social conduct, correspondence and sportsmanship, she taught the basic dignity of correct comportment, believing that what was "socially right was what was socially simple and unaffected."
Emily Post died in 1960, on the doorstep of the decade about which Mr. Hatcher writes. But Mrs. Post's books have remained in print. The current edition, the 18th, has been updated by her great grandchildren. It includes advice for the modern reader on using one's smartphone politely, managing social networking with civility, the appropriateness of tattoos and technology in the workplace and the often confusing practices of dating in the virtual world. In this era where common-sense rules of behavior often seem murky, drowned out by shouting matches on television talk shows and politicians who tweet compromising photographs, perhaps we might all crave a refresher course on the ground rules of basic civility.
The world has changed a lot since the days of women like Emily Post and her loyal follower, Mrs. Mannerly, but one might consider that the need good manners remains the same, if not more necessary than ever. To paraphrase a song made famous in 1967 by The Graduate: "Where have you gone, Mrs. Mannerly?"
Finally, I'd like to offer a quick personal anecdote. In 1997, thirty years after Jeffrey Hatcher's manners class concluded, I met our playwright while performing a role in his hysterically funny comedy One Foot On The Floor at the Denver Center Theatre. I was a young actor and Jeff seemed to me a serious and imposing figure, pacing in the back rows of the theatre during rehearsals and handing out new pages each day. I was desperate to please him and thrilled when Jeff finally cracked a laugh at one of my big moments. I can still remember that chortle from the back row.
On opening night, I found a note from our author, neatly printed and folded in an envelope atop my dressing room table. "Mark, thanks for being in the play. I've tried to write you some good lines and I think you're  funny in the role. Thank you for all of your hard work. Best, Jeff." It meant a great deal to me. I still have his note in a drawer at home. The playwright's good manners remained intact, it seems.
No doubt, our author penned this play as a belated thank you note to a teacher who, in some small way, helped shaped the course of his life. If so, it is a beautifully written, remarkably gracious and heartfelt thank you note. And it speaks very highly of him, since a thank you note is always appreciated. Mrs Mannerly would be proud of her student.
We hope that you will consider our reading of Mrs. Mannerly an equally heartfelt thank you note to YOU — our Script In Hand audience, for your loyalty and friendship as we all finally welcome each other back to our deeply missed nights at Westport Country Playhouse.
Annie and I hope you enjoy your visit with Mrs. Mannerly.
Thank you,
Mark Shanahan
MEET THE ARTISTS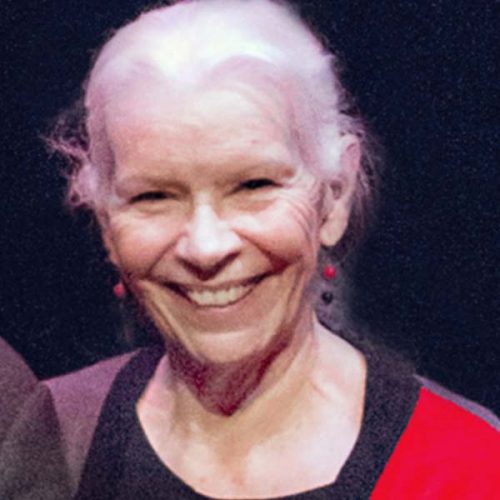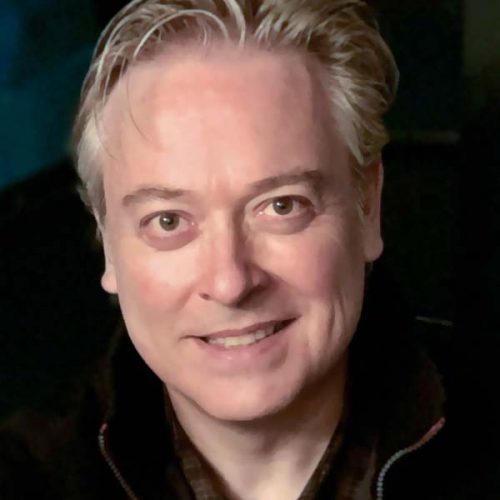 MEET THE CREATIVE TEAM
Alexandra Rappaport
Stage Directions
Associate Producer / Director of Production
Technical Director / Associate Director of Production
Stephen Emerick
Videographer + Video Editor
October 11 - 17
Script in Hand: Mrs. Mannerly
by Jeffrey Hatcher
directed by Mark Shanahan
Running Time: ~ 90 minutes